Product: Grammarly, AI-powered writing assistant
Price: Free to $29.95/mo
Where to Buy: Buy from Grammarly Direct
Product Specifics: 2 plan levels with three payment options including free and premium with premium membership pricing options offered monthly, quarterly and annually
Guarantee: There is no guarantee. Grammarly offers an excellent knowledge-base and support ticket system for subscribers.
My Rating: 9.7 out of 10
Product Overview
I work with clients who are creating strategies designed to grow business revenue. One of the critical drivers of revenue growth is the communication of value that the business provides. The best way to showcase value is through written communications.
If you're like ninety percent of my clients, you likely break out in a cold sweat when you need to write for your business or job. Let's face it; if you own or manage a company, you are the expert of the service you provide or the product you sell. None of your clients know what you know about your offer.
The only way to showcase your knowledge is to communicate that knowledge consistently. I use and recommend Grammarly. It will give you the confidence needed to communicate effectively in either your business or personal writing.
The Grammarly grammar checker is an AI-powered writing assistant that helps you create compelling and mistake-free writing while building your written communication confidence.
Don't sweat the small stuff in your writing. Let Grammarly sweat the little things for you.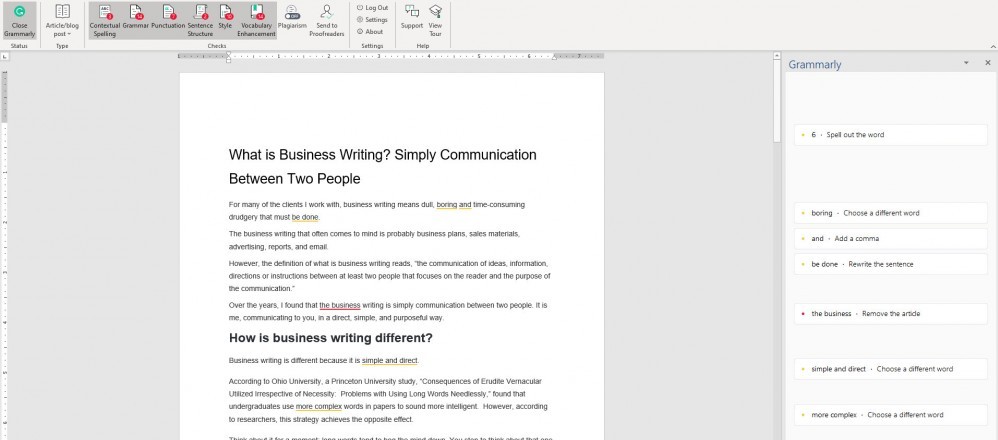 As you start writing, you'll quickly learn that the creative mind can crank out ideas rapidly, one after the other. The thing that slows your creative mind down and inhibits your creativity is when the technical mind comes in and starts "perfecting" the written word too early.
Yes, it would be best if you edited your work. Mistake-free writing is your goal – but only in the finished piece. The easiest way to write is in drafts.
Draft one
(the hardest part) is getting your ideas down on paper (or a Word doc). Don't think, don't edit, only focus on getting your thoughts on paper.
Draft two
is your first review. Here's where you'll plug in missing words, correct glaring spelling errors, and rewrite sentences that don't make sense.
Draft three
is your final draft. Turn on Grammarly and let the writing assistant go to work for you. Grammarly will prompt you to make decisions. You can accept, reject, or modify your copy every time.
Grammarly will also show you better ways to write, which improves your copy. I've been using Grammarly for several years. Now, I find that I often spot a rewrite need before it happens, based on the Grammarly prompts in previous documents.
From my experience, when used consistently over time, Grammarly helps make you a better writer.
Wherever you write, Grammarly is there to assist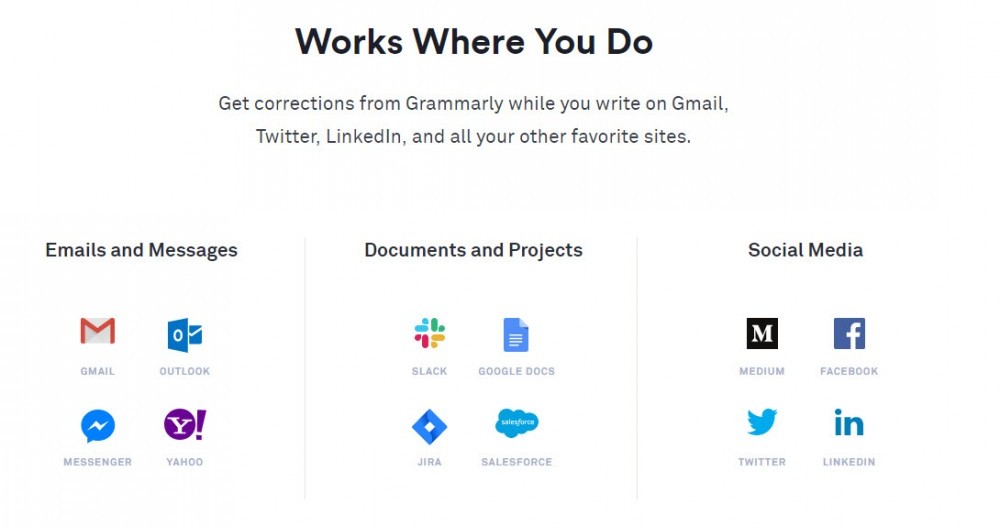 The reason I like Grammarly is that it's easy to use, has no learning curve, and checks writing for errors in spelling, punctuation, and conciseness in the free version.
One of my favorite features of Grammarly is that it's there to help with my writing no matter where I'm writing. On a computer, in Outlook, Gmail, Word, my blog, the smartphone, everywhere I write, Grammarly is there to assist me in putting out the best writing possible.
Grammarly even works on social media posts. How many times have you written a post and saved it, only to find when re-reading you left out a word or something does not read quite right?
Grammarly helps there too. Social media, documents, emails, Slack, Salesforce, and more are all supported by Grammarly's AI-powered writing assistant.
Grammarly is like the Swiss Army knife of writing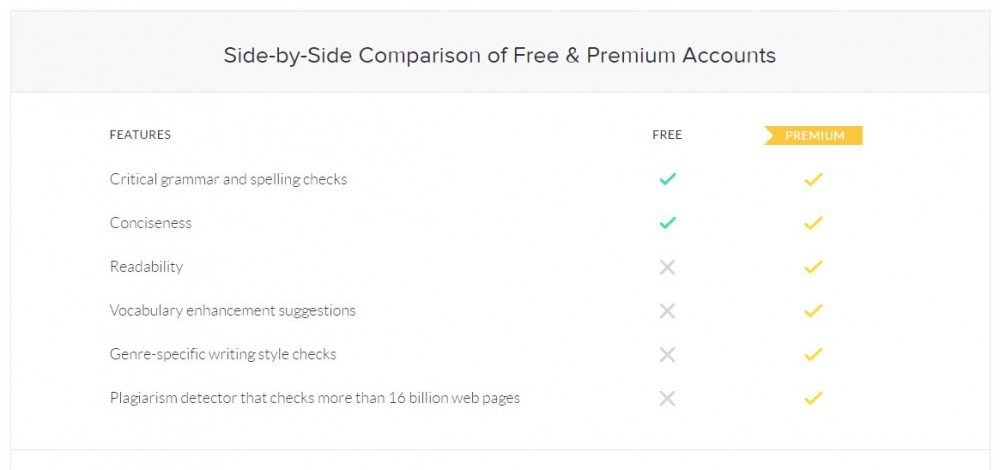 As a premium subscriber, I'm a big fan of the extra features Grammarly offers. Vocabulary enhancement suggestions, advanced punctuation, genre-specific writing style checks, plagiarism detector that checks more than 16 billion web pages are all part of the Grammarly Premium platform.
Grammarly also integrates into MS Office programs (in Windows). A Grammarly keyboard for your smartphone ensures that your text messages, emails, and social posts on the fly are the same high-quality as communications that you write on your computer.
You'll learn to think of Grammarly as the Swiss Army knife of writing.
Grammarly makes your writing stronger, and your stress levels around writing plummet

I write for client projects, as well as my blog, and have used Grammarly consistently for at least three years. In that time, Grammarly and I have become inseparable. However, there are a couple of drawbacks to consider.
The first is that to get full use of the tool and all its AI-power, you need to subscribe to the Premium version. The free version is excellent and works well. I used the free version for the first couple of years that I used Grammarly, and it served me well.
However, until I upgraded to the Premium version, I had no idea what I was missing. Now, I'm able to get complicated writing completed in less time. Grammarly guides me and helps me polish my final drafts quickly. Believe it or not, when you use Grammarly, your emails and texts even become stronger.
If you're writing emails and occasionally posting to social media channels, and not writing for a business blog, the free version is terrific and is free forever.
If you write for a blog, professionally in your job or business, or post to social media channels consistently to attract client interest, then the Premium version of Grammarly will make your life easier, your writing stronger, and your stress levels about writing plummet.
Learn all about Grammarly and try it. See the impact it has on your writing, first-hand.
Are you a writer? Do you use Grammarly? If you want to become a better writer, how do you see Grammarly helping you improve? Leave a comment. I'd enjoy reading your thoughts.
If you have questions about business writing or Grammarly, I'll be happy to answer them for you. Post a comment, and I'll be sure and reply.