Product: Evernote, Note-taking app
Price: Free to $14.99/mo
Where to Buy: Buy from Evernote Direct
Product Specifics: 3 plan levels including Basic, Premium, and Business
Guarantee: No guarantee but exceptional, live support options for Premium and Business subscribers
My Rating: 9.5 out of 10
Product Overview
What is Evernote, and why do you want it, or dare I say, need it? Evernote is a note-taking app. It works on your computer, phone, or tablet. It gives you one place to put notes that contain to-dos, research, plans, ideas, and so much more. When you use Evernote, you'll be able to jot down those sudden bits of genius inspirations that appear out of thin air, anywhere and at any time. For example, suppose you wake up in the middle of the night with the BEST idea ever to solve a work challenge. Instead of thinking about it until 3 am and telling yourself, "I'll remember this, it's THE answer I was looking for," you can pick up your phone, jot down the idea in a note in the Evernote app, go back to sleep, and REALLY remember the idea in the morning. If you're like me, you have a million ideas, thoughts, inspirations, and research notes for projects (both professional and personal) that you're working on at any given time. Imagine being able to find that information when you need it fast. In a way, using Evernote makes your brain searchable. Plus, you can share ideas with anyone, whether they use Evernote or not. Now all your meeting notes, web pages, projects, vacation plans, to-do lists, errands, important dates, and more are all in one place—with Evernote as your note-taking app, nothing falls through the cracks. I'm going to walk you through some of my favorite aspects of Evernote in this review.
I'm biased and a long-time Evernote user
I am biased in favor of Evernote. To maintain full transparency regarding Evernote, I have been a user of this note-taking app since 2011 for my business and life. Because I enjoyed using Evernote so much over the years, I became an Evernote Certified Consultant in 2016. I went from fandom to helping others create and remember essential things in their business and life with Evernote.
With all that said, having worked with both individuals and companies implementing Evernote, I can tell you first-hand Evernote makes a massive difference to people who use it every day. The difference is that they are more focused and organized. They remember vital things, are on time for appointments and can find information quickly, both professionally and personally. Professionally Evernote helps you keep track of what to do and things you need to remember every day of the week.
Personally, Evernote is a place to remember errands, shopping list, vacation plans, event tickets, anything in your personal life that you don't want to forget.
Searchable containers of information make work and life easier to manage
Evernote works with a series of searchable Notebooks, which is the container for information, segmented by subject. Here's an example of my notebook organization list. I use this every day to remember what to do, compile information for research, keep blog post ideas handy, jot down errands and shopping lists; basically, anything I want to remember for work and life is in these notebooks.

Inside each notebook, you can add notes, like this research note, for example.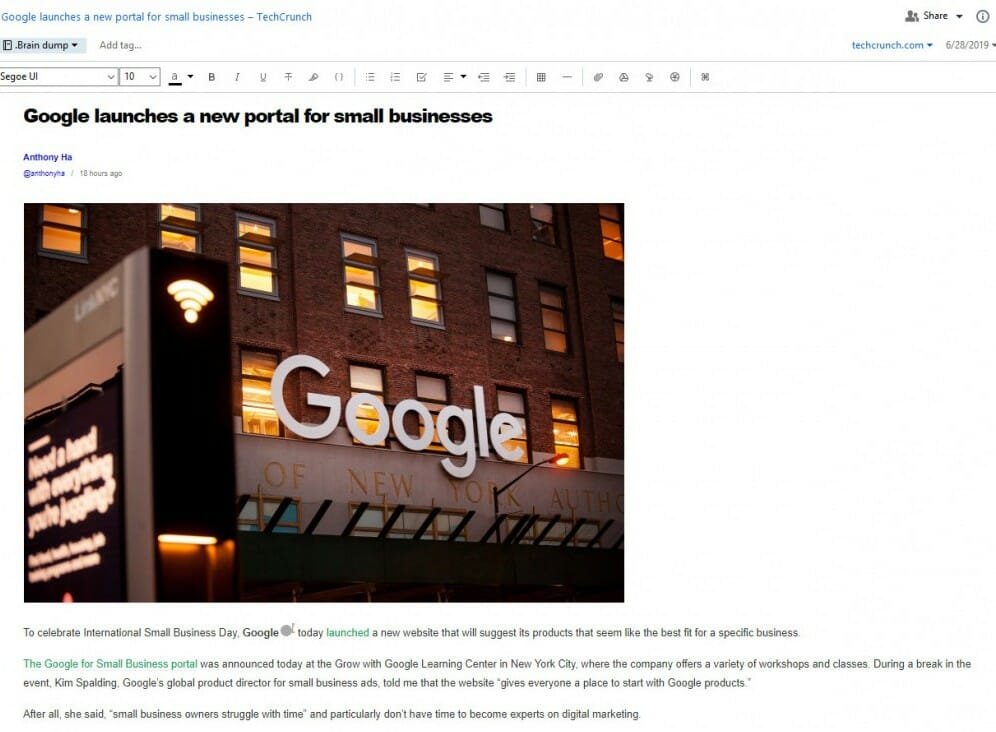 You can even clip web pages off the internet directly into Evernote with the Evernote Web Clipper. The image below is what a web page looks like being saved into Evernote.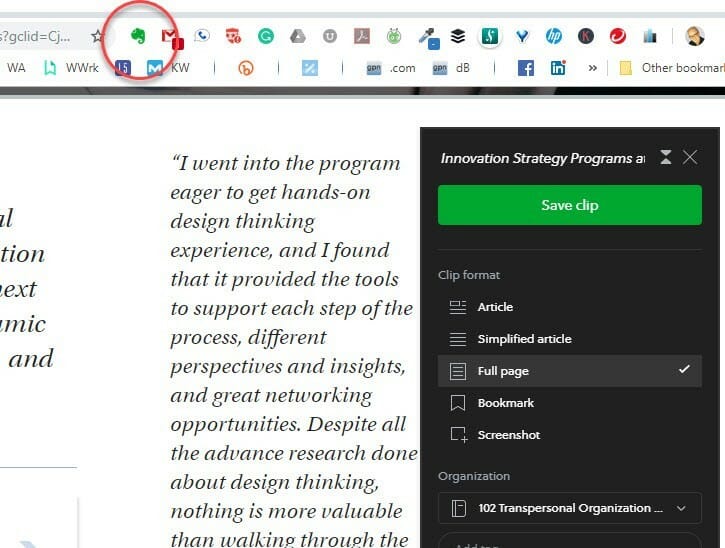 It's easy to use and quick to learn, with intuitive setup. Evernote works and thinks the way you do. Once you know the basics, you're on your way to organizing all the information that's likely slipping through the cracks today.
4-things to learn so you can remember everything and make your brain searchable
There just 4-things you need to learn to master Evernote.
All you need to know is how to use Notebooks, Notes, Tags, and Stacks.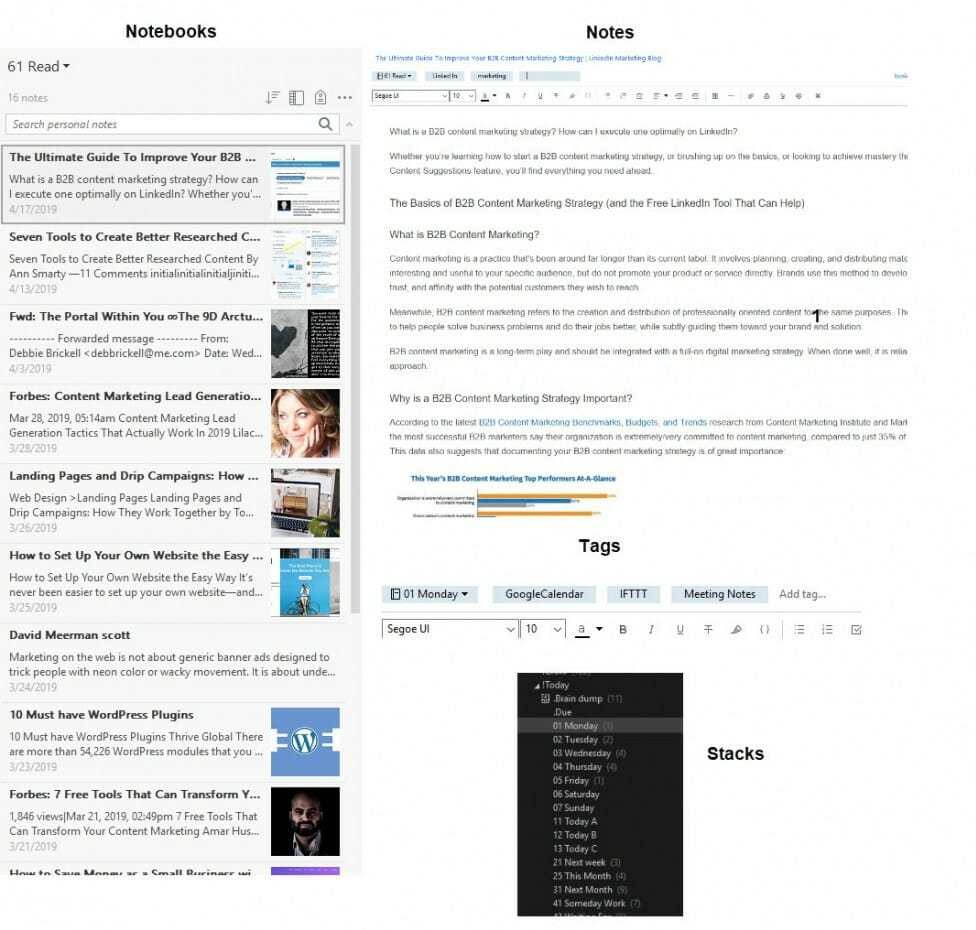 Notebooks are the folders that contain information
Notes are the information you want to remember
Tags make searching for notes easier by providing a way to add additional keywords (called tags in Evernote) to make searching quicker.
Stacks give you a way to organize Notebooks into major subject areas.
In the image above, my Stack to organize my week, business, and life contain notebooks called Mon-Sun. Each day includes notes of things I need to do, important things to remember, to-dos, errands, meeting notes, tasks, basically, anything I need to remember or do, every day of the week.
I open the app every morning and know what to do that day, week, month, and the following month.
Evernote makes life and work more productive
I have used Evernote for years. I am an advocate, user, and fan, no doubt. I would have a hard time managing my business and life without Evernote by my side. However, here are a couple of drawbacks to consider.
One is that to use the tool most effectively; you need to be a subscriber. While there is a free option, it's limited. The cost for an individual user, called Premium Evernote, is $7.99 per month. For business users, the Evernote Business version is $14.99 per user per month. Sure, that's not a lot to pay for ultimate organization and time management, but there is a cost. With a subscription, you get full use of the product on your computer, phone, and tablet. I use it on my laptop, smartphone, and Chromebook every day, for example. Any note I put in one device shows up in the entire account on every device. I love that about Evernote. There is also a web-based version that you can use securely online, which also syncs up notes from any device.
The other drawback is that there is a learning curve. You'll need to learn how to use Evernote and get it set up for your daily life. Fortunately, there are countless books and how-to videos and posts about how to use Evernote. Evernote themselves has an excellent training portal that gets you up and running quickly.
You can easily subscribe to Evernote securely online. Once you subscribe, you'll be able to work with the desktop application for either Mac or Windows, the app for iPhone or Android, and excellent, responsive technical support when you need it.
If you're an Evernote user already, I'd like to hear your experiences with using the tool. Leave me a short comment with your Evernote story.
If you have questions on Evernote, wondering if it's the right tool for you, or how to use Evernote for your life and work, let me know in a comment, I'll be happy to help you out.